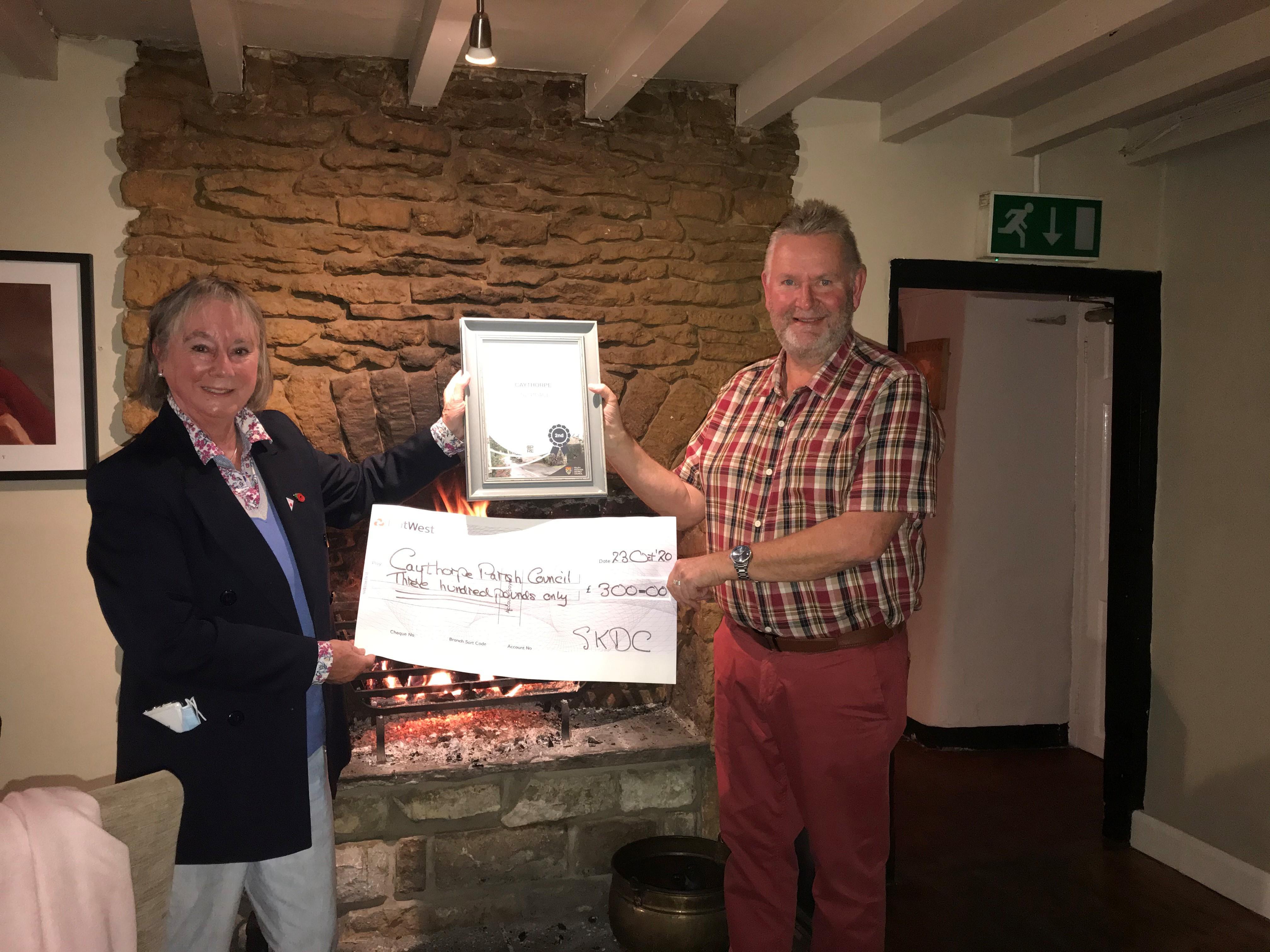 Cllr Neil Fritzsche chairman of the Parish Council had these words:
"I am very grateful to receive this runner-up award on behalf of Caythorpe and Frieston Parish Council. The award is due to many people pulling together to make our community a vibrant and pleasant place to live and this is just one example. Cllr Crawley coordinates the SKDC Big Clean team to assist in keeping the overgrown areas clear and tidy especially the footpaths so people can walk and push prams and buggies along. We have our little pickers the Watson Bros (no they're not a group!) Who conduct weekly litter picks around the parish, Cllr Andy Crawley and his team who target areas of the parish such as Gorse Hill Lane, the A607 and clear those areas of litter. Mid UK have been working on ensuring less litter emanates from the lorries attending the site and all this makes the parish more pleasant place to live, of course it would be better if people didn't throw litter about, however, they do and keeping it tidy is down to a tight group of people within our parish. We also have Councillor Andy Roberts whose passion to keep the village in good order shines through again by directing work to keep footpaths clear, bins emptied the wall memorial and burial ground looking spic and span. He ensures the benches around the village are in good order. Cllr Graham keeps his beady eye over the footpaths and gets them free of overgrown foliage where it is required. All of these little things go to make up a cohesive team.
We then have residents like Mike Sinnatt who regularly mows the verges and triangle as you approach the village on the A607 all of this for no recompense, just community spirit!! There are of course contractors to Mow the upper and lower greens at Frieston. Dog fouling has been a constant issue for us, but again Cllrs Jean Allan and Darren Lee have done a sterling job in keeping this to a minimum and of course businesses within the community that put out hanging baskets such as the Wagon and Horses and the Red Lion also make the High Street a nicer place to be in, our Playing field and village hall teams take time and care to make them such a lovely asset for the parish. Lastly but not least all of the residents who keep the gardens and premises looking really nice and good which makes the walk around the village one of the most pleasant areas to be. So I'm really happy and pleased that all the effort put in by people within our parish has been recognised and thank you very much for this award we will of course try even harder next year to get the ultimate of first prize."